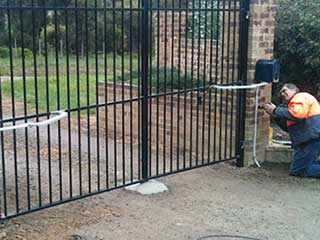 There are two things a driveway gate is supposed to do. The first is to keep your home or business protected from intruders. With a reliable intercom system, you can control who comes and goes and choose who to let in and who to keep out. The second thing the system needs to do is project a certain vibe to the outside world. Whether you own a commercial business or a residential home, the condition of your gate and its design and style can boost your property's curb appeal, or have the exact opposite effect.
Different Material Options
What your new gate is made of is really important, due to various reasons. If you're looking for privacy above all else, then a material that can break easily or that is usually built in the form of bars wouldn't be the right choice. A steel gate can be a great fit in that case. Not to mention, it's enhanced durability serves for extra security. If design and class are more important to you, then a wrought iron gate or a classic and homey-looking wooden one may do the trick. Remember, though – different materials have different maintenance requirements, and often you'd need to regularly repaint the bars and frame in order to preserve its condition and prevent rust, rot and other types of damage.
The Method of Operation
Your new automatic system can move in several different ways. Depending on how much space you have available in front or to the sides of your driveway will determine which types of systems you can install. A swing gate, naturally, moves outwards or inwards, similar to a regular door. That means it will need enough space to do so without risking hitting passing cars or people. A sliding gate doesn't carry that risk, but it needs to be able to move laterally without any interruptions. They both require different types of opener units too, and special safety features to prevent them from hitting anyone or anything.
Our Experts – Your Benefit
At Gate Repair Agoura Hills, our team specializes in helping home and business owners find the perfect system for their property. Whether you prefer the ornate design styles of wrought iron, or the classic beauty of wood, you can be sure your new driveway gate will meet all your preferences.
Our team can also take care of:

Multicode Remote

Automatic Gate Repair

Parking Garage Gates

Linear Gate Intercoms