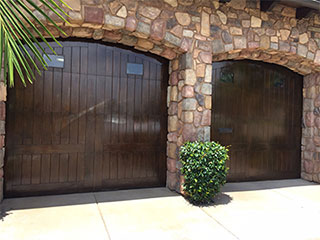 Don't let our company name mislead you. Our technicians spend just as much time repairing and installing automatic garage door systems. The complex mechanism and the tremendous tension used during operation means that any issue with this type of system requires an expert's touch. You can rest assured that whatever problem you may encounter, our professional technicians can provide the solution you need.
My Electric Opener Isn't Working
Don't panic. This type of problem can be the result of anything from dead remote control batteries to physical damage to the drive system or the motor gears. It can also be the result of bad circuitry or issues with the circuit board. Whatever the case, our experts can troubleshoot your opener, locate the source of the problem and resolve it.
The Door Got Off Track
If you encounter this type of problem, odds are something's wrong with the tracks themselves. They could have gotten bent or blocked with debris. Both of these issues can keep the rollers from moving, which will result in the door getting stuck. Because this type of system can weight upwards of two hundred pounds, our recommendation would be to not try and perform any DIY repairs and instead have our technicians take a look.
One Of My Springs Just Broke
Garage door springs are built to be able to withstand incredible amounts of tension, but everything has a threshold, and after a while, that ability will begin to decrease until they finally break. A broken spring can be very dangerous, and should only be handled by professionals with experience and skill, to avoid potentially severe injuries.
All The Help You Need
Whether you require emergency spring repairs or to have a completely new electric opener installed, our professionals here at Gate Repair Agoura Hills are happy to lend you a helping hand. Our experts can provide all the information you need, answer any questions you may have, and – most importantly – fix whatever's wrong with your door. Get in touch with us today to benefit from our same day service policy.