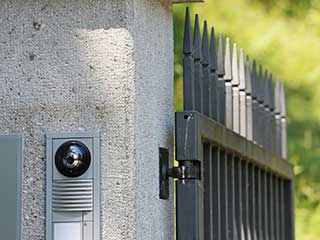 The whole purpose of a gate intercom system is to allow you and visitors to enter your property easily and conveniently, while also providing security against unwanted intruders. Therefore, choosing the right system for your needs is essential. Few homeowners pay a lot of thought to the type of phone entry system they'll install along with their gate, but our experts recommend that you take the time to understand your options.
Basic Gate Entry Systems

If nothing else, an intercom system should let you know when someone's outside. Of course, you'll need to know who it is, so almost all systems will incorporate a two-way speaker system. This lets you identify a delivery, or an expected visitor. Video entry systems take this one step further, allowing you to confirm the identity of the caller visually. This can be very useful - think how easy it would be for an intruder simply to claim they're here for a delivery, or a city worker.

Keypad Entry Systems

If you have an automatic gate, you'll also have a remote control for it. However, it's always a good idea to have some way of manually opening the gate if your remote is left elsewhere, or if its battery runs out. Keypad systems allow you to securely open your gate by tapping in your own code. They also allow you to grant entry to trusted visitors; if the in-laws are taking care of the house while you're on vacation, this can be very handy.

Smart Connectivity and Gate Systems

Modern technology offers unparalleled opportunity to tap into new abilities. Something that's been developed in the last few years is smart integration of gate entry systems. This allows your intercom system to directly call your smartphone, rather than an in-home receiver. Not only does this cut down on the amount of equipment you'll need in the house, it can also notify you regardless of where you are in the world. So, if a would-be thief buzzes your gate to see if anyone's home, you can quickly respond and deter them.

Looking to upgrade your gate with a new intercom system? Give us a call and consult with our experts to find the best model for your needs.