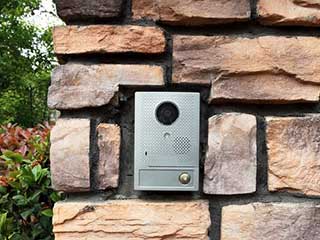 Your gate intercom system is a vital part of your security system. By allowing you to reliably identify visitors and communicate with them, you can keep out unwanted intruders, while enabling visitors to easily access your property. Keeping this system working properly is essential, and that's where our technicians come in. With many years of experience in handling all sorts of problems, there's no issue that our experts can't solve.
Resolving Intercom Issues
Phone entry systems come in many different types and designs, but they are all liable to suffer from similar issues. Some common problems are circuit board failures that prevent the gate from being opened, or malfunctioning speaker and microphone units. These can be caused by wear and tear, corrosion or simply by physical damage to the unit's casing. Whatever the case may be, our team can provide fast and reliable solutions for all of these issues and many other ones. Because our technicians always bring a supply of replacement parts with them to every job, you won't be kept waiting while new parts are ordered; our team can usually fix most problems on the spot.
Installing a New Intercom System
A malfunctioning intercom system may need to be replaced, or an obsolete model could be in need of an upgrade. In either case, our team can help; our long experience in the industry puts us in the perfect position to help you choose a new model. Whether you decide to opt for a simple audio system or one that has a video link, our technicians will give you in-depth guidance throughout the process. Our team will make sure the new system is installed to our high professional standards, guaranteeing security from day one.
Schedule Your Service Today
There's no need to wait for your intercom system to be repaired - our team is available 7 days a week, with emergency same-day appointments available for urgent problems. Don't put off scheduling your appointment - get in touch with Gate Repair Agoura Hills today to find out how our experts can help.