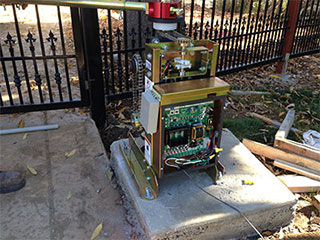 A driveway gate that won't open can make it impossible for you to go about your day and is a real hassle to deal with, especially early in the morning. A gate that opens on its own is a threat to your home security, not to mention a potential safety concern. Both of these problems can be caused by a faulty electric opener. If you suspect a problem with your device, you should seek professional assistance as soon as possible. Our emergency repair service specialists are familiar with all the potential issues your opener may experience and can quickly solve them all.
What Is a Gate Opener?
This device, also called an operator, is responsible for lifting, pulling, or pushing your driveway gate when it needs to open. If you have a swinging gate, the opener will use a drive system in the form of either a powered hinge, or a small robot arm. In the case of sliding gates, this device will usually use a boxlike machine that pulls the system with a chain, belt, or an unfolding arm. The opener also includes a backup battery or some other power source, like solar panels, as well as a remote control receiver, and usually a system of safety sensors that prevent the system from closing while there's something in the way. All of these can malfunction over time, and expert skills and experience will be required to fix them.
Repair and Replacement
The complexity of an automatic gate opener is easy to forget about until it starts having problems. Your gate making strange noises during operation, opening slower than usual, or opening unevenly or in a stuttering way, are all signs that an opener issue may be developing. Fortunately, these problems are usually fixable with some expert attention. Our technicians knows these units inside and out, and can repair or replace whatever components are causing the problem, including remote controls, gears, and sensors.
New Models Available
Our company works with a number of trusted manufacturers, including brands like LiftMaster, Elite, and Eagle, and can install a brand new opener for you if your old one is beyond repair, or if you simply want the extra features that modern models can offer. Today there are special features like smartphone connectivity and even solar-panel and backup battery options. Of course, not every model will work for everyone; the mechanics, style, and weight of your gate require a specific type of opener, and a certain amount of horsepower. Our team can help you choose the one that best suits your needs and price range.
Contact Our Reliable Experts
If your opener isn't working, or is giving you the warning signs of an impending problem, our team at Gate Repair Agoura Hills can send a technician over to your location on the same day you call. Don't hesitate to get in touch with us for any related need you may have.
Let our team take care of it for you!

Gate Wheels Repair

Swing Gate Operator

All-O-Matic Opener

Doorking Gate Intercoms