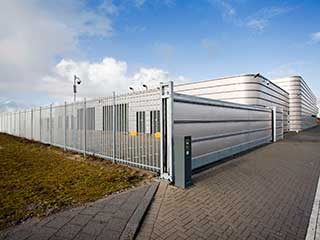 There are many different designs available for your property's automatic entrance gate system. Whether you're looking for a classic, elegant style of wrought iron or something a little more modern, like stainless steel, the wide range of styles available today means you'll be sure to find the right system for your needs. In this guide, our experts highlight just a few of the most popular design ideas for home and business entry systems.
Wooden Gates - Stylish and Simple

Timber gates are an excellent choice. They look great, with many different types of wood available to be used, from redwood and cedar to oak. Wood is also extremely functional, providing great durability as long as it's regularly treated to prevent moisture soaking in. Wooden gates typically block sightlines very well, too, which can benefit your home or business in terms of privacy.

Wrought Iron - Classic Design Style

Calling back to an earlier age, wrought iron entrance gates give your property an unmistakable air of elegance. Often finished in beautiful black and gold, these ornate frames and bars are very tough and durable. The only drawbacks of wrought iron are the need for regular care to prevent rust, and its density; iron is a heavy material, and entrance gates made from it need to be strongly supported.

Steel Gates - Strong and Versatile

Many businesses and homeowners opt for steel gates, thanks to the sheer amount of choice it offers. Steel is very strong and more corrosion-resistant than iron, and also requires less maintenance than wood. This material can also be fashioned into many different styles and designs, so it can be used to create attractive, intricate patterns to add curb appeal to your home. It can also be built to be strong and resilient to provide extra security for business premises.
Choosing a Color
Whether you're installing an entrance gate at home or at your business, you may well want a range of colors to choose from. These could match your corporate identity, or tie into the scheme of your home. In either case, all these materials can be painted or powder-coated to match your specifications. It's important to remember, though, that wrought iron and wooden gates require special attention to ensure that no moisture damage occurs.
Need help deciding which system and material to choose? Get in touch with our experts at Gate Repair Agoura Hills and let us help you find the perfect system for your home or business.