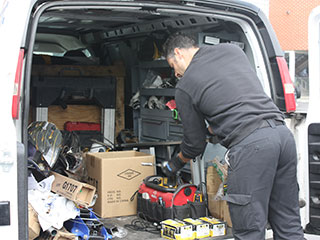 A wide range of problems can develop with your gate system. Intercoms can stop working, hinges can crack, and the frame itself can get out of alignment. There's nothing that our technicians can't handle, however. No matter what issue you're having, our team is ready to provide a solution.
Repairing A Broken Intercom
If you can't let visitors through your gate, it's not a lot of use to you. Even if your system is working perfectly otherwise, a malfunctioning or unreliable intercom system can be enough to make the whole unit unusable. If your intercom isn't working properly, it could be for a number of reasons; our technicians will assess each component, from the exterior case to the circuit board, and then carry out the necessary repairs in the shortest time possible.
Solutions For Damaged Hinges
The hinges of any swing gate system are vital load-bearing components. They can be damaged more easily than you might think; wear and tear can slowly degrade their condition, as can accidental impacts. Our team is fully trained and equipped to carry out welding repairs on gate hinges, so don't delay - get yours fixed as soon as possible.
Problems With Your Opener
All automatic gate systems rely on an opener to drive them. Not only does this device provide the automation, it also takes care of numerous safety and security features. If the opener develops any faults, it can lead to unsafe operation, as well as slow, unreliable and noisy movement. Our team works with all major gate opener manufacturers, so whether you have a Doorking, DKS, or a LiftMaster unit, our experts will be able to help.
Gate Service Experts Near You
Our team specializes in providing fast, high-quality solutions for all sorts of problems. Gate Repair Agoura Hills offers appointments throughout the week, including same-day services for emergencies. Get in touch today to find out what our team can do for you.
Count on our team for:

Gate Hinge Repair

FAAC Gate Opener

Ornamental Iron Gates

Aiphone Gate Intercoms