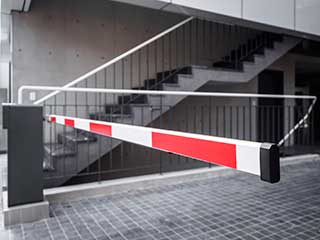 There are all sorts of automatic gate system that are used to protect and secure commercial properties. From private schools to parking lots and even some high-end restaurants. The condition of this system needs to be more than just functional, as for some businesses, appearance is just as important. The type of gate you have and the material it's made of will determine how much maintenance it will require, and how much curb appeal it will have.
Prestigious Wrought Iron Swing Gates
As one of the classic types of systems that conveys luxury and class, a wrought iron swing gate is hard to beat in terms of the appeal it can bring to your property. The ornate design gives off the vibe of sophistication and affluence, both of which can be major assets for many business establishments. Of course, this type of material requires regular repainting, in order to protect it from rust. Being constantly exposed to the elements means moisture will be a constant threat, and if you want the beauty of the frame and the bars to last you'll to see to it that the system is serviced somewhat regularly. Hinges can rust or break and require welding repairs, and even the frame itself can get damaged by accidental (or intentional) collisions.
Lifting Barrier Gate
This is the type of system that's usually installed for private parking lots, in order to control the inflow and outflow of vehicles. The visual appeal element isn't really involved here, as this type of gate is often a simple steel bar that serves to prevent sudden rushing vehicles from entering. Apart from collisions, the lifting mechanism itself can malfunction, causing the gate to rise and stay up, or not to open at all. This is a security risk, needless to say, and also a major inconvenience for both employees and customers, when the system refuses to open.
Sliding Gate Problems
The classic industrial system that's often used for warehouses or other private establishments who are interested in security and practicality. There's no shortage of problems that can affect this type of gate, though, as the track it relies on can be bent and the wheels can also get stuck or break. The safety sensors can also experience issues, causing the gate to refuse to close, or close when there's an obstacle in its way.
Whatever You Need
No matter what type of system you have or what type of problem it experiences, you can always rely on our team at Gate Repair Agoura Hills to solve it. Get in touch with us today to have our professional technicians provide the expert service you need.